More bird species and larger nest sizes than last year
Bird counts and nest box controls were also this year carried out at all test locations for tits. We found more different species in the nest boxes and the litter sizes were also larger than last year. In addition to many Great and Blue Tits, we counted 11 nests of the Pied Flycatcher.
At the end of March, adult Tits were counted at the field sites with nest boxes and the control sites without nest boxes. Significantly more Tits were observed at the locations with nest boxes, suggesting that hanging nest boxes attracts tits to these locations.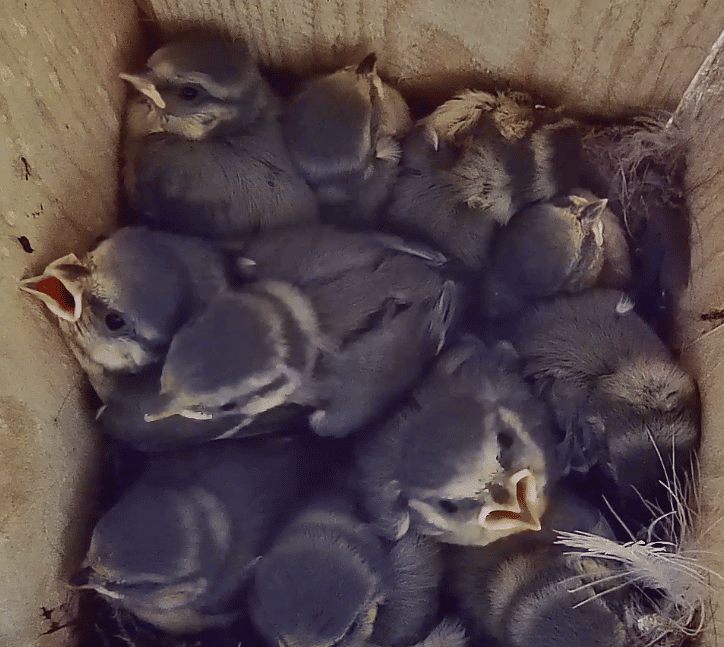 In April and May, the nest boxes were controlled for nesting material, eggs and chicks. This was slightly earlier than in 2021 due to the mild spring. During the checks, different species of hollow-nesting birds were found. The most common species were Great Tit and Blue Tit, but European Pied Flycatchers and Nuthatches had also found their way into our nest boxes. This year there were 11 Pied Flycatcher nests (4 in 2021) and 3 Nuthatch nests, of which no nest was present last year.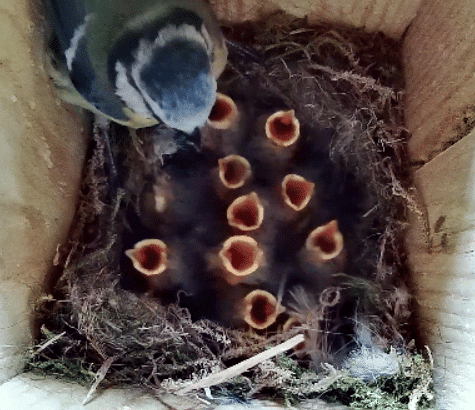 Due to the good spring and the large numbers of caterpillars (Winter Moth, Green Oak Moth), the nests were remarkably larger than last year. For example, Great Tits and Blue Tits had an average of 10 young, which was significantly more than last year. A litter of 12-14 chicks was rather common, in contrast to the previous year (max. 11 chicks). Partly due to the large food supply, fewer litters with dead young were found (3 compared to 9 in 2021).
When looking at the nest boxes, 42% were occupied. This was slightly more than last year (39%). More occupied nest boxes together with larger litter sizes resulted in significanlty more Tits at our study sites.   
In the coming months we will try to find out what the exact effect is of hanging nest boxes and attracting Tits on the number and size of nests of the oak processionary caterpillar.